Historical background of the main stages of its development


Nicolas BREHM was the head of the French Guyana branch of the International Water Centre of Nancy: NANCIE. This Technology Resource Centre supported him to start his business in French Guyana given their desire to stop their interventions in the DOM (French Overseas Departments).

NBC was initially a private practice from March 2003 to February 2005.

As of February 15th 2005, the practice was transformed into a LLC (SARL in French) with an initial capital of

5000 €

. In March 2005,

Nicolas BREHM

became an employee of the SARL NBC and its director.

The company's turnover shows a 2-digit growth annually, with R&D expenditures corresponding to 40% of the turnover. NBC was recapitalized successively in September 2006, October 2009 and December 2010 and today has a

share capital of 44 000 €

. The firm is in a hiring and development phase (patenting activity, investments, etc.). NBC currently has 4 to 5 permanent employees and is increasingly working on

local development

projects,

training

and

applied research

(see the 2012 Research Directory by clicking on this

LINK

).

Two of these projects have won awards

at the National Contest of the Ministry of Research (2004 and 2008).

NBC is an atypical consultancy firm, not limited to the studies field. NBC develops, innovates, files patents, applies and even industrializes its innovations. Our work is also transferred to the populations in need (remote locations in French Guyana, Haiti and Dominican Republic).
Human resources
Director and founder of the company: Nicolas BREHM, water and environment engineer and empowered by ministerial approval (Ministry of Research) since 2004 to benefit firms of the Research Tax Credit.
Research officer and engineer: Lynn LUTTRINGER, graduated from the Ecole National Supérieur d'Ingénieur de Limoge (France).
Research officer and engineer: Quentin VILLEMAGNE - Master II in Environment
Research officer and engineer: Eliot DUCLUZEAU - Master II in Environment and environnement hazards, and ENGREF engineer.
Research officer and chemistry engineer : Yeray ALVAREZ GALVAN - Chemist engineer and expert in operation management.
Research officer and engineer : Luc ALLARD - Doctor in ecology, biodiversity and evolution.
Research officer and engineer (privileged partner) : Julie CALMELS, Engineer of Polytechnic school of Lausanne and POLYTECH' Montpellier.
Graduate of Politic Science (privileged partner) : Béatrice Morel , graduate of Poltic Science School of Renne (France) and Master of urban network.
Research Entomologist (privileged partner) : Jean-Philippe CHAMPENOIS. Jean-Philippe intervenes punctually as an expert for NBC.
Research officer and veterinary doctor (privileged partner) : Nausicaa HABCHI-HANRIOT, Master II in Environment and veterinary doctor. After two years of being an employee, Nausicaa now intervenes punctually as an expert for NBC.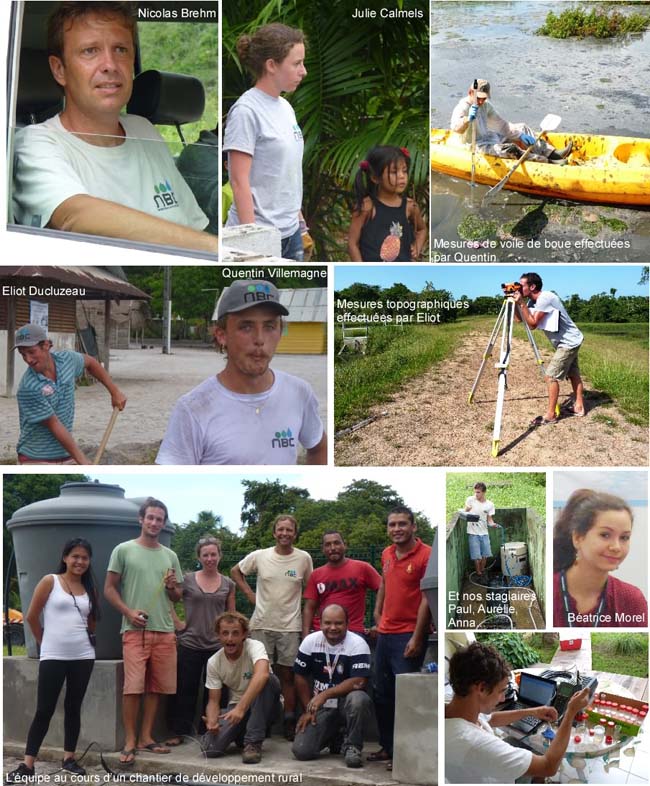 A young, dynamic, inventive and highly complementary team
Equipment
Water analysis equipment (many probes and physicochemical recorders, photometer, 2 automatic samplers – autonomous and portable, a 6-station digital jar-test, a precision scale, five pressure/temperature loggers, two flow meters recorders with Doppler effect and ultrasound, 1 height/automatic speed flow meter HACH FH950, IDEXX microbiology laboratory, UV spectrophotometer ASSISTEMO for wastewater, etc.), field equipment for achieving environmental and hydro-biological diagnostics (velocimeter and its hydraulic modeling tools, topographical telescopic sight, field analyzers, sediment container, soil permeability kit, auger, etc.), hardware for performing cartographic works, 7 PC of which 4 are laptops and their peripherals (flatbed and slides scanners, A4 and A3 color printers, etc.) for office work, 1 multi-space car and 1 Peugeot 2008 car, 1 pilot furnace of chemical and physical activation for production of activated carbons. On the other hand, we have a large documentary fund (books, studies, maps, databases) corresponding to our areas of activity (water, environment, ichthyology, Amazonian flora and fauna, etc.).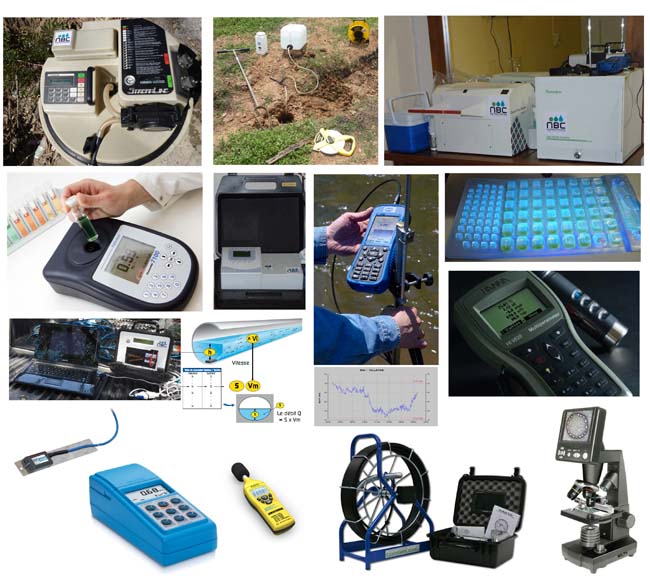 Positioning in France and worldwide
Nowadays, NBC SARL has gained recognition at the national level, through various awards and prizes that were attributed to the firm; and with its status of YOUNG INNOVATIVE COMPANY that it held until 2010. This recognition now extends internationally throughout the Amazon and the Caribbean. Look at this film of CCI of Guiana - We want to thank CCI of French Guiana, Business France and the french Embassy of Santo Domingo for their help!

; – see Listín Diario's article of March 2012.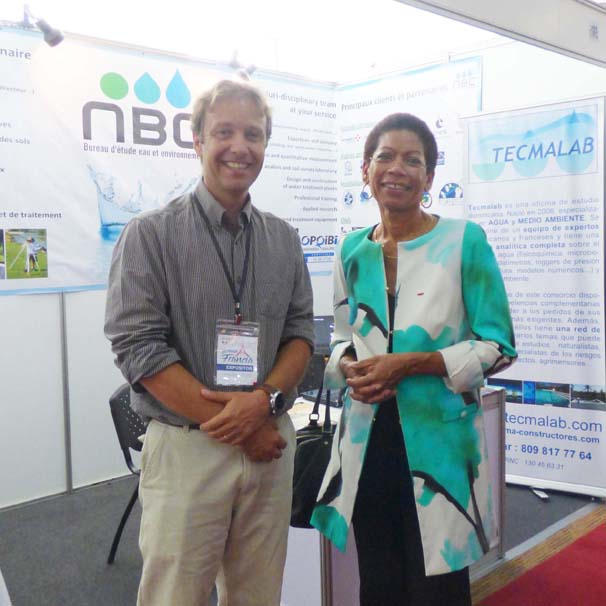 Visit of the Minister of Overseas Territories in October 2014 on the NBC stand during the French week in the Dominican Republic.
Furthermore, it has since 2004, the APPROVAL OF THE MINISTRY OF RESEARCH, enabling the companies to benefit from the Research Tax Credit.
NBC is also, since 2012, Adviser on technological education for the Ministry of National Education and official training provider.
The company bids increasingly to tenders in consortium with consultancy firms from various regions such as:
BRL : as part of numerous Sanitation and Drinking water Master Plans and for international programs (World Bank)
IRH : as part of the Drinking water Master Plan of St Laurent du Maroni
ARTELIA (SOGREAH) : as part of the Sanitation Master Plan of Apatou and Maripasoula (the biggest municipality of France!), the new drinking water treatment plant of Cayenne, etc.
ODYSSEE DEVELOPPEMENT : as part of numerous Guyanese feasibility studies
AQUATRIUM : as part of the technology transfer of slow retro-filtration
Etc…
NBC also works for major French and international companies such as Suez Environnement Lyonnaise des Eaux, VINCI Construction Grands Projets, Unilever, etc. NBC also operates for international NGOs such as OXFAM, Terre des Hommes, etc.
Furthermore, we have strong and materialized partnerships, in the form of applied research activities, with a number of international universities like: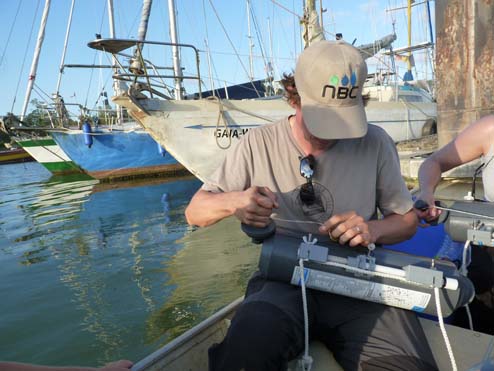 Preparation of a sampling bottle in the water column of Dégrad des Cannes harbor